If you are self-conscious about your teeth then finance for cosmetic dentistry in South Africa may be an option. For you to get the perfect set of pearly whites. Borrowing money for dental implants is one common solution for people who don't have the money up front.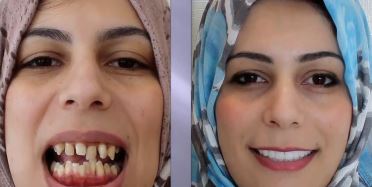 Any kind cosmetic dentistry is an expensive procedure. So often available only to a wealthy few without dental payment plans.
Unfortunately most medical aids do not support claims for you to get the celebrity smile of Matt Damon. Or put forth a mouthful Halle Berry would be proud of.
However there are a number of private lenders who will offer medical payment plans for cosmetic procedures.
As dental procedures go, the most common cosmetic processes are:
Veneers to improve your smile
Tooth Implants
Tooth Extracting for problem teeth
Dentures
Restorative Dentistry
Teeth Whitening
Orthodontics for straight and regular teeth
Bridges
Implants for missing or removed teeth
This may also interest you: How to Get your Teeth Pearly White
Which companies offer Finance for Cosmetic Dentistry?
First Health Finance are connected with thousands of cosmetic medical doctors all over South Africa.
To apply for cosmetic dentistry finance with First Health Finance, you just use the online application form. Which shouldn't take more than 2 minutes to complete.
Once First Health Finance have had a chance to review your details, a consultant will take you through the rest of the process. Then come up with a payment plan that suits you. You can contact First Health Finance on 0800 212 537.
You can visit the website here: https://medifin.co.za/
Another South African financer for cosmetic dentistry is Cosmetic Makeover, who offer free online consultation.
To apply for this service, visit http://www.cosmeticmakeover.co.za/cosmetic-dentistry and fill in the consultation form. Attaching x-rays, treatment plans and reports.
You are also free to ask any questions you may have.
The Cosmetic Makeover team will review your application and find you an appropriate dentist.
After the dental practitioner has provided a quote, Cosmetic Makeover will review the quote. Then make sure that you are getting a good price on the cosmetic treatment.
To get your financing on the go, simply fill in an application to get started.
Other documents you need along the way are a copy of your identity document. In addition a bank statement of the last 3 months, proof of your salary and employment. As well as proof of your physical address.
You also have the option of applying at a general credit company for a loan to finance your cosmetic dentistry.
But the downside of this is that these companies are not specialist cosmetic dentistry financers. So they may not have the same connections and knowledge as a specialized institution.
What are the benefits of using a cosmetic dentistry credit provider?
Aside from the obvious financing service. Financing companies are also experienced industry and know the costs that are involved in cosmetic dentistry procedures. Making sure that you can get the best price for your procedure.
The lending company can also take care of all your appointments and consultations for you, so leave the admin to them. A representative from the company will be available for any queries or needs you have. Therefore can assist you both throughout and after the procedure.
Most cosmetic procedures require maintenance and post-dental care, and the financing companies will be able to give you the relevant advice. Making sure that you heed the instructions of the dentist.
You will usually have 6, 12, or 24 months to pay for the treatment you receive.
You can be offered the option of paying for your procedure in part, and have your financing company cover the rest.
After you have applied for a loan online, your loan can be approved in as little as 12 hours.
In most cases you can receive as much as R40 000 for your cosmetic dental procedure.
Who is eligible for dental finance?
Most South Africans will be able to afford cosmetic dentistry finance loans. Which means that they can have the procedure done quickly.
Rather than having to save up over time to pay for the dentistry that medical aid won't cover.
Having a gleaming smile means your confidence can glow from within, and you can finally take pride in your pearly whites!
A Free Dental Makeover in South Africa
If you need a dental makeover for free in South Africa it's a good idea to keep looking online for competitions.
Often you can win a smile makeover at no cost to you. Because who wouldn't want to fix their teeth for free?
You will often find these free smile make overs competitions to enter on sites such as Facebook.
It can cost a lot of money to fix your teeth in South Africa. So it's no surprise these competitions to win a free dental makeover are popular online.
However for those of us who have to pay the price of cosmetic dentistry, getting finance for dental procedures is the next best option.